Ubtan is a form of cleansing therapeutic massage done after Abhyanga. Ubtan uses cleansing pastes prepared from herbs and flours or coarsely ground legumes. These clarify the skin by drawing heat from the blood and stimulating lymph flow and also exfoliate the skin and firm mup the body. Traditional ubtan pastes use medicinal herbs such as manjistha, neem and sandalwood that break down congested toxins in the blood and lymph and encourage the body to shed toxins naturally. Babies are traditionally rubbed down with an ubtan paste at birth to cleanse them of impurities and strengthen their coordination.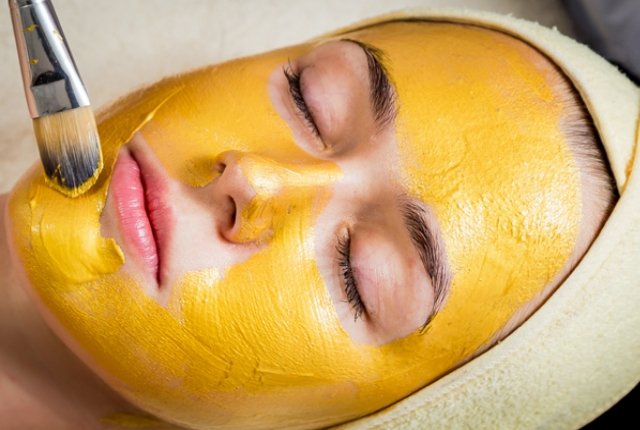 Ubtan cleansers can be applied either as pastes or powders, and are rubbed into the face and body fairly vigorously to stimulate the release of toxins. Vata types shopuld use a more liquid application with relatively large, circular movements- their skin being fine, powders can be a little too abrasive. Pitta types benefit from a smooth paste application that can be easily worked in circular mo0vements without over-stimulating the skin. Kapha types require a powder application and should use small, vigorous, vibratory circular movements to really stimulate the natural flow of body fluids. Remember that you can use the ubtan recipe for your dosha, or the ubtan for the dosha imbalance you are experiencing.
Ubtan cleansers are available in Ayurvedic shops but here are some simple recipes for making your own. Make sure facial cleansers are ground smoothly enough to not irritate your skin. These may be used for the body as well. Because the skin of the body is less delicate than that of the face and neck, any cleanser used for the body can be coarser and used with a little more vigour to help tighten the pores and invigorate the underlying muscle and lymph tissue. When cleansing your body, if you have time, apply the ubtan paste, leave it on for 10-15 minutes until it begins to dry and then rub it off.
Facial Ubtan
Vata facial Ubtan
VBBata types benefits from a more liquid ubtan that warms and moisturizes the skin. 5-6 raw, blanched almonds, skin removed, 1/4 cup malai, 2 tablespoons of sesame oil, 1 teaspoon finely ground brahmi or tulsi.
In a bowl, soak the almonds in the cream overnight.
In a food processor, combine the almonds with the cream, sesame oil and herb. Pulse until the mixture is smooth but yet has plenty of texture.
Rub into your face using gentle, circular motions. Let the untan soak in/dry 5-10 minutes. Dust off excess.
Rinse off with cool to lukewarm water necessary.
Pitta facial Ubtan
This pitta ubtan paste cools the skin and extracts heat toxins.
3 teaspoons chana besan,1/4 teaspoon ground turmeric. 2 teaspoons ground white sandalwood or 1/2 teaspoon sandalwood essential oil. 2 tablespoons crushed cucumber.
In a bowl, stir together all the ingredients.
Rub the mixture into your face using small, circular motions. Let the ubtan soak/dry5-10 minutes. Dust off excess.
Rinse with cool water if necessary.
Kapha facial Ubtan
Kapha types benefit from a powdered ubtan that stimulates the skin to reduce water and accommodates natural lymph flow.
3 tespoons mung dal.
1 teaspoon ground, dried orange peel.
1 teaspoon Ayurvedic herbs such as neem powder, long pepper.
With a mortan and pestle, crush all the ingredients, taking care to break up the mung dal into small pieces.
Rub the mixture into your face using small, vigorous circular movements. Let the ubtan soak in/ dry for 5-10 minutes. Dust off excess.
Rinse with cold water if necessary.