Warm water foot bath is a simple procedure that gives numerous health benefits.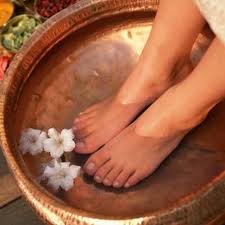 How to do:
Sitting on a chair, both the feet are placed in the bucket filled with warm water. When the warmth of the water is cooled down fresh warm water is added to maintain the heat. The body is totally covered for 20 minutes with a woollen blanket including the bucket. A piece of wet cloth is placed on the head. The entire body sweats from top to toes. Then the foot bath is completed. Taking the legs out and uncovering the blanket the sweat is wiped off with a dry cloth. Rest is taken by sleeping under a cover.
Note:
A glass of water is drunk before taking a warm water foot bath. Focus on warmth in the body. Breathing is slow.
Benefits:
The irritation and itches in the legs, knee pain, body pains are cured. Rheumatism is prevented. It is a boon for those who suffer from sleeplessness. It sends one into a deep sleep.
Precaution:
People suffering from high blood pressure, heart diseases, mental unrest should not take warm footbath.